How to Repair a Moen Posi-temp Shower/tub Valve
The Moen Posi-temp shower valve is a vey popular valve for home installations. It is one of the most common valves installed in homes in recent years. The Posi-temp is a pressure-balanced valve. This means that the valve maintains the selected flow of hot and cold water even with fluctuations in the pressure of either temperature water supply. So, if someone flushes the toilet while your in the shower - the shower temperature is unaffected.

The inner workings of the posi-temp valve are all in a replaceable cartridge. Replacing the cartridge can fix a variety of probelms that can occur (leaking, loss or reduction of hot or cold water, etc.)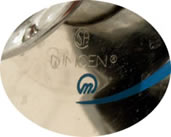 1) Identifying the Moen Posi-temp shower valve: Look for a Moen logo. (if yours is a Delta, or Price Pfister, then it is not a Moen) The Moen posi-temp valve comes in a variety of finishes, but all turn on with counter-clockwise action and with the temperature increaseing as the handle is moved further. Full hot is about 270° of rotation from off. Once on, flow remains constant throughout the temperature range selection. If your shower on/off is separate from the temperature control, then it is NOT a posi-temp valve.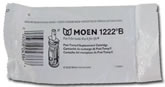 2) Purchase a replacement cartridge. Don't go for the cheap import. The internal workings of the valve are precision stainless steel and high quality brass. Non-original manufacturer parts are usually of lower quality and will not last! The correct part number for a Moen Posi-temp is the 1222B. The replacement part does come with instructions.

3) Have a Moen cartridge puller ready. This is not a cheap tool, but if you have several of these valves in your house (it's not likely you only have one), and you're a DIY kind-a person you might need this tool to complete the repair (I did in the video). The puller is used to extract the cartridge if it doesn't come out easliy with pliers and the small plastic piece included in the kit for loosening the cartridge (you might need it, you might not).
Other pullers are available than the one pictured here and used in the video. See my Plumbing Tools page under Valve Tools for some other examples.
Since most showers don't have a separate shut off (like a sink or toilet) you usually have to shut the water off to the entire house until the repair is complete. So, have everything you need or might need ready, just in case, including the puller.
Now you're ready to continue with the actual repair, which are shown in the video in the following steps:
Shut off the water to the house & open a faucet to relieve pressure
Remove the faucet handle
Remove the handle adapter and collar
Remove the retetion clip
Loosen the cartridge with the included plastic part and pliers
If the plastic tool does not loosen the cartridge, use a puller
Remove the cartridge
Check for debris in the valve body and clean as required
Insert new cartridge
Re-assemble in reverse order
See the video for details on revsersing hot and cold sides (cold should come on first)
Moen provides a customer support line for parts and installation assistance.
(USA: 800-289-6636, Canada 800-465-613, Mexico 800-718-4345)
| | |
| --- | --- |
| Time to complete | 20 min |
| Materials | towels |
| Tools | pliers or channel locks, allen wrenches, Moen cartrdige tool, phillips screwdriver, very fine steel wool or 3M scrubby pad, flashlight |
| | |
| Skill level | medium |