How to Replace a Shower Head
The latest low-flow shower heads can provide both a good spray and save water!
In this video, Greg demonstrates how to remove and replace a shower head. The entire operation start to finish takes about 3 minutes! Now that IS easy!
Some shower heads have a ball built into the shower arm (the pipe coming out from the wall) that are not compatable with other shower heads. Since most new shower heads also come with the arm, Greg recommends replacing both the arm and the head together. It's easy, and the finishes will be sure to match.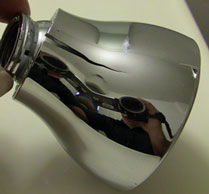 In this video Greg is installing a Wolverine Brass shower head. This high quality shower head will last for many years, and is easy to open up and clean the spray head with simple vinegar (no tools required). Because it is actually made of solid brass with a real chrome finish (not plastic with a thin silver colored coating), it will not crack, break, or peel like the popular name brand plastic one seen here.
| | |
| --- | --- |
| Time to complete | 5 min |
| Materials | teflon tape, putty or silicone sealant (optional) |
| Tools | pliers or channel locks, cresent or adjustable wrench |
| | |
| Skill level | easy |