Save water with a Water Select™ device
The shower offers a great opportunity to save large amounts of water, and when you save water, you're also saving money! Showering accounts for approximately 17% of residental indoor water use in the United States adding up to more than 1.2 trillion gallons of water each year nationwide. The average household (2.5 persons) could save more than 4,500 gallons per year by installing and using the Water Select™ shower valve. It also reduces your sewage cost or your septic tank overload, and gives others a better chance for a hot shower
The manufacturer (Water-Select) states the water-select valve saves a average family approximately $180.00 a year by:
including a 2.0 gpm flow restrictor for an automatic 20% savings (from a 2.5 gpm shower head)
providing a convenient shower shut off for up to 70% savings by simply turning down the water, with our adjustable valve, while soaping up or doing other things while in the shower.
The manufacturer states that it is best to turn down the water to a low slump or trickle – not all the way off, so you are not as likely to be blasted with hot or cold water when you turn the water back up.
The long handle is designed to help adults and kids that can not reach the valve itself as well as the hurt or handicapped. Invented to help bathe his elderly father without getting soaked so that those assisting could control the water flow while in the shower with him.
As show in the video, the water selecte device can be installed with the handle on either side of the shower head, so that ON is with the lever either UP or DOWN as deisred. However, to meet the claim on the box that it can be done if 5 minutes with no tools, the manufacturer suggests sticking with the arm on the right side of the showerhead.
Installing:
Water Select™ valve is easily installed between your existing showerhead and the water supply pipe. Simply turn left and unscrew the showerhead, screw the Water Select™ valve to the water supply pipe, then attach your showerhead.
Instructions are provided on the back of the box:

Caution:If you decide to switch the arm to the left side of the shower head, you will need to adjust a small allen screw. CLOSE THE DRAIN to ensure the small screw is not lost down the drain if it is dropped.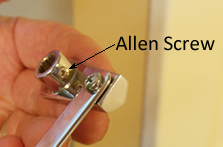 | | |
| --- | --- |
| Time to complete | 5 |
| Materials | Optional: pipe thred tape |
| Tools | Pliers or channel locks, optional: allen wrench |
| Skill level | easy |
Please support this website by clicking on an advertisement. They pay me so you don't have to!
Ordering: You can order the Water-Select device directly from the manufacturer at http://water-select.com.