Can you do it? Yes, you can, and I can help
Do-It-Yourself Plumbing info you can actually use!


Did my videos just save you a bunch of time and money?
Would you like to help me keep producing more?
Of course you would!
Feed my Tip Jar via Paypal! Safe Secure and any amount is appreciated!
Suggested donation: just one tenth of what I saved you.
Or just leave a comment here.
Thanks,
Greg

Save on home water use with the @NRWA Savings Engine

Tap the @NRWA Savings Engine* to discover your personal water+energy savings opportunities!
This app helps you analyze and improve on your home water use.
It takes just 5 minutes to see how you can add green to the planet and to your pocketbook:
http://www.nrwa.org/savings-engine/
See the video on our savings engine app
https://vimeo.com/288028902
Latest Video:
So, you're thinking or buying a new toilet
Greg discusses what to consider when choosing a new toilet.
New Book
Introducing Greg's new book "All About Water" now available in paperback and ebook formats.
This fun illustrated book tells the complete story of water. Readers learn about water use, re-use, plumbing design and much more. The history of water through the ages and municipal codes governing public water supplies are also discussed. It is a fun and educational book co-written by a LEED-AP plumbing professional with over 40 years experience.
During October, get 25% of the original price of $19.95 with your pre-order!
Click Here to buy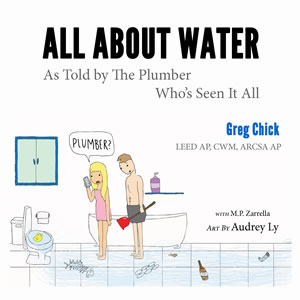 About DIY Plumbing Advice
Here we strive to provide you with plumbing and water information that is reliable, responsible, and free. The purpose of this site is to show YOU how to do it, not just to show an abbreviated video of how I did it. A plumbing glossary is included on each subject page.
Our Latest

Videos:
Water Treatmens Systems

Avoid turning "Do It Yourself" into "Damage It Yourself" - Be Informed!
What do people say?
"As a plumber in Florida, I can and will say good job. You made this simple for a home owner. And you can save home owners some money! I work for myself and when I get calls for this I wonder why they haven't looked for this on Youtube. Good work! "
One of many comments from my YouTube channel.
See more comments on the comments page
Don't Miss:

Easy: Can be done successfully on the fist attempt without special skills; generally with household tools.



Medium: May require some practice or skill to do successfully. May require tools beyond common household tools, but available at most hardware or home center stores.



Hard: requires skills/knowledge or more extensive practice to compete successfully. May require specialized plumbing tools that are not readily available at most hardware stores or home centers



Expert: Requires specialized skills or knowledge to complete successfully and safely. In some cases the difficulty of the task may not be high, but the possibility of property damage or injury for an improperly completed task will put the task in this Expert category.
Select your Subject